Veteran Disability
Benefits Attorneys
Do you or a family member need assistance getting VA disability benefits? Tabak Law has a team of experienced attorneys that work exclusively with veterans to help get them the benefits they deserve.
No matter where or how you served, you may be eligible for life-changing benefits from the VA. Tabak Law has assisted thousands of veterans in getting approved for benefits and receiving back pay from the VA.
GET HELP NOW.
VA Benefits Attorney in Milwaukee and Nationwide
Taking care of the individuals who bravely served this country is our top priority. Veterans from many different military branches are entitled to federal veterans benefits through the United States Department of Veterans Affairs (VA). Often, veterans don't realize they are eligible for benefits or tried in the past and were denied. With rules that have changed in recent years, many veterans who were previously denied benefits or were never eligible can now receive life-changing backpay for hardships suffered during their time in service.
Tabak Law is a Milwaukee-based veteran benefits law firm that serves veterans throughout the United States. Getting in touch with someone at Tabak Law means you are speaking with an experienced veteran benefits professional that can get you help right away. If you or your loved one are suffering, don't hesitate to call Tabak Law.

Recent Veteran Wins
$176,140
100% disability for service-related posttraumatic stress with major depressive disorder, taking back to 2017, worth $176,140 in past-due benefits. August 2022
$281,403
Specified trauma with major depressive disorder and general anxiety with panic attacks, dating back to 2014, worth $281,403 in past-due benefits. April 2022
$389,959
Previous 60% disability is appealed, proving 100% disability, worth $389,959 in past-due benefits. January 2022
Veteran Cases We Handle

TDIU
Veterans may qualify for TDIU, or Total Disability Individual Unemployability if they are unable to work due to a disability that is related to their military service. A TDIU determination means a veteran is entitled to be paid at a 100% disability rating.
A TDIU rating does not necessarily mean that the veteran has received a 100% disability rating. The fact is, veterans can qualify for TDIU any time a service-connected disability prevents them from obtaining employment.

PTSD
Post-traumatic stress disorder, or PTSD, is common in veterans who have been involved in high-stress situations and were exposed to a traumatic event. PTSD can make daily life difficult to get through, and simple actions can trigger severe symptoms.
PTSD is diagnosed on a spectrum, so the diagnosis of severity can range from mild to severe. Often, veterans have more severe cases than are often initially diagnosed, making them eligible for additional benefits.

Traumatic Brain Injury
Traumatic Brain Injury, or TBI, is a condition that is becoming more common in veterans – specifically with veterans from Iraq and Afghanistan. TBI signs and symptoms can include attention issues, headaches, vision impairment, dizziness, nausea, and more. TBI can result from close or open head injuries in combat, often from shrapnel or another severe impact.
Veterans suffering from TBI can qualify for benefits after being evaluated, including a mental and emotional evaluation. A veteran benefits attorney can help find the right doctor for the condition.

Burn Pit Exposure
Military burn pits are large fire pits used to burn off and dispose of military waste, most commonly in Iraq and Afghanistan. The waste included paint, chemicals, metal, aluminum, rubber, plastic, and more. The fumes given off from these large pits were breathed in by veterans, causing a range of issues later in life.
Veterans exposed to burn pits during specific combat may already qualify for benefits through the VA if a connection is proven.

Gulf War Syndrome
Gulf War veterans dealt with many environmental hazards during their time overseas. Often, these hazards caused health issues later in life. The risks include over 750 Kuwait oil well fires, in addition to many others.
Participants in the Gulf War experiencing a broad range of symptoms may qualify for benefits through the VA. An attorney can help isolate and prove the connection between issues and time in service.

Camp Lejeune Veterans
Contaminated waters at Camp Lejeune from leaking storage tanks have caused many issues for veterans later in life. The groundwater at Camp Lejeune was contaminated from 1953 to 1987, meaning a wide range of veterans and their families were affected.
New disorders have recently been linked to the contamination at Camp Lejeune, with a presumption of service connection for many associated veterans.

Agent Orange
One of the most commonly known and misunderstood veteran chemical exposures is Agent Orange. The military used this chemical to eliminate cover from the treetops, exposing thousands of veterans.
A veteran needs to develop a condition associated with exposure to Agent Orange to be eligible for benefits. Talking to an attorney can help someone understand if their association was one that qualifies.

Military Sexual Trauma
Any veteran who was sexually assaulted during their time in service or was the victim of repeated sexual harassment has a case for a military sexual trauma claim with the VA. This can include any sexual act that occurred without consent or where the individual felt violated or threatened.
Talking to a veteran's attorney about this difficult issue is entirely confidential. An attorney can help begin to fight for the wrong committed and secure benefits for someone who continues to suffer from the pain.

Mental Health
Not all mental health conditions that veterans suffer from are necessarily PTSD or TBI. Many veterans suffer from major depressive disorders, causing difficulty sleeping, fatigue, irritability, and an overall feeling of hopelessness or loss. Anxiety is another common issue surrounding veteran mental health.
Veterans suffering from poor mental health may be eligible for VA benefits due to their condition and how it affects their ability to gain substantial employment.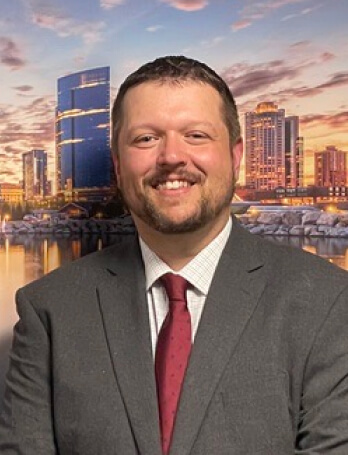 Jim Brzezinski
Partner/Attorney
Jim Brzezinski is the majority shareholder at Tabak Law. His work with United States veterans is well documented and is his life's passion.
Prior to attending Marquette University Law School, Jim worked for the Department of Veterans Affairs, where he was tasked with assessing and rating permanent disability for veterans. This helped define his direction as an attorney. After graduating in 2011, Jim joined Tabak Law as an Associate Attorney, handling veteran's claims as an attorney. He became an equity partner of Tabak Law in 2013, and in 2021 became the majority shareholder.
Today, Jim is focused on continuing to help veterans on a national level, with a team of experienced veteran attorneys by his side.
Get Tabak for the Payback